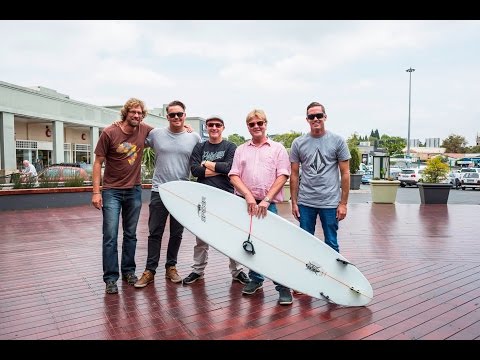 SANDTON, JOHANNESBURG: January 22, 2016 — Reflecting shades of the hit Disney movie "Cool Runnings" about a Jamaican bobsled team that made it to the Winter Olympics—for the first time in the history of the sport of surfing, the landlocked city of Johannesburg will "field" a team at the  Billabong South African Inter-club Surfing Championships, to be held at Seal Point near Cape St. Francis on the 13th and 14th of February.
The team of four men, one woman and a judge will take to the beach and brine under the banner of the Joburg Boardriders Club, the brainchild of Braamfontein pastor Nathan Gernetzky, who describes himself on his Twitter profile as a "husband, father, friend, creative, pastor, hopeful woodsman, concrete shredder and wannabe big wave surfer."
"Surfing is our common ground, it's what connects us—we're all different in some ways—but it's amazing, we now get to fulfil this dream. We're actually sending a team to surf in a national event!" says Gernetzky. Founded just under a year ago, Joburg Boardriders has built up a loyal following in the concrete jungle, recruiting mostly former coastal dwellers who have made the career move inland to "the big smoke".
The team's number one seed, Fourways-based plumber Shane Warren, spent eight years campaigning on the World Surf League Qualifying Series circuit and, of all the Joburg Boardriders, could be in contention for a victory. While he never cracked the prestigious Championship Tour, he was a stand-out professional surfer who will show that the Joburg Boardriders mean business on the waves. As a KZN champion, Warren won the prestigious Rip Curl Tubemasters competition in 2002, ahead of Travis Logie, so far one of SA's most successful world tour pros.
Friends since high school, team members Kevin Trevaskis and Byron Loker—who learned to surf together in the waters of Muizenberg, Cape Town, and work together as project managers for Design Partnership, a leading interior design agency in the retail and hospitality space, based in Sandton—are excited to have made the grade.
For Trevaskis, an accomplished surfer, such an outing has been an ambition of his ever since he "washed-up" to Johannesburg from Durban six years ago and found a new career path. As a former head judge of the World Surf League's South African chapter, Trevaskis is pleased to be back in competition. "I just want to ride under the curl of the wave and get a long tube ride, my bru," he says. Byron Loker has been in Johannesburg for the past two years, broadening his horizons and is the author of a surfing-themed collection of short stories, "New Swell", now prescribed literature in the Ninth Grade in Gauteng and Western Cape. The team is rounded out by Dominic Barnardt, another Cape Town transplant who has established himself as a freelance commercial photographer in Jozi.
The club is bringing current SA Masters women's champion Tasha Mentasi to St. Francis and she will no doubt prove to be a force to be reckoned with in the ladies division.
Joburg Boardriders has found support from mainstream surf industry brands such as Nixon watches, Carver skateboards, Rip Curl SA clothing, Xcel wetsuits and Spider Surfboards, while "blue collar" supporters in the shape of Imperial Electrical & Plumbing, Bothma Branding Solutions and Fulcrum Flooring have also stumped up sponsorship to get the team to the beach.
Follow #joburgboardriders on all social media, hopefully all the way to the final event! The winning team will host 2017′s championships, which could potentially see a national surfing event held at The Lost City's Valley of the Waves—another historic first.
The team is available for interviews and photographs. For more information, please contact Nathan Gernetzky, team manager on 083 798 8999 – info@joburgboardriders.co.za
https://www.facebook.com/joburgboardriders
http://www.surfingsouthafrica.co.za/2016-billabong-interclub-surfing-championships
Photographs available from Dominic Barnardt on 083 212 3479.